St Simon and St Jude Church
By Irene Munday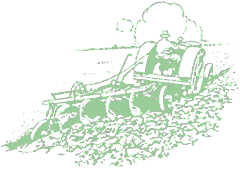 Some 46 years ago Mr Fred Stone who at that time lived in Mead Cottage, Bramdean came to me in the church with a lovely Stable and Nativity he had made by hand. To this day it is still used during the Christmas season, a fitting memorial for a man, who like Jesus was a carpenter.
We now have a modern organ. The previous organ was at one time pumped by hand by various volunteers. At one time we had a choir some 15 members strong and a thriving Sunday School.
In the Vestry stood a bier, which carried the deceased up to the churchyard. I have seen this used twice in my years in Bramdean. I can remember helping the Rev. Hornby push the bier up into the back of the churchyard where it finally rotted away.
The church once had ebony churchwarden's wands with silver bands and silver crosses on the top. Sadly these were vandalised and stolen by thieves. The Pulpit was replaced by one which came from a deconsecrated church and the Altar Table has also been replaced. We have a new Lectern, chair and table and the outer doors have been replaced, many of these items having been donated in memory of deceased parishioners. The church now boasts a village tapestry depicting buildings, flora and fauna of the locality, a Tree of Life and an embroidered wedding kneeler, all designed by Diana Snagge and worked on by a village sewing group.
We must move on, but one can always remember the beautiful memories of the past years.