Memories of Lettice and Dave Bulpitt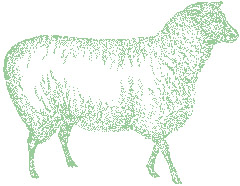 Lettice's father, George Griffin, was born in Little London Cottage and his father, Albert, was the Writer for the village. In the later 1800's there was no state education and many 'ordinary' people could not read or write. Villages often had a Writer who would read or write for anyone who needed this service.
Lettice was born in Deal, Kent where her father, who was a marine was stationed. In 1934 after leaving the marines, George, his wife and their two children Owen and Lettice, emigrated to Australia, but when George had an accident in a sawmill the family decided to return to the UK.
At Christmas 1939 the family returned to England and lived in Jasmine Cottage in Bramdean. George bought land in Bramdean from Charlie Freeman of Cheriton and drew up his own plans to build Kalamunnda Farm (named from where the family lived in Australia). After various heated discussions with the local council, he was allowed to have the bathroom in the house and a verandah (neither was considered 'proper' for 'ordinary' people). He worked locally as a self-employed Jobber (he did work for Captain Heymann who lived in The Gomms at the rime) and could turn his hand to anything. At the same time he ran his smallholding with a pig, chickens, cow, goats and grew all his own vegetables.
Dave was born in Old Alresford Shortly after Dave and Lettice married in 1950 they moved to Bramdean to live at Kalamunnda. Dave worked for Jack Peeling at Lacey's Farm alongside Ron Gerrard. Jack Peeling's sister-in-law (Margaret Reed) owned The Fox Inn and Jack's brother Ken ran The Flower Pots in Cheriton.
In 1953 Lettice and Dave moved to number 4 Wood Lane Close and then in 1957 to Number 7 as they had two children by now. In 1963 they moved to Lacey's Farm, Hinton – their present home. Whenever they moved house they never needed to hire a removal van as relatives and friends in the village helped move their furniture and belongings – it was a case of a word'down the pub the night before the planned move and everybody pitched in.
During the 1950's Dave played for the Bramdean Football Club (Winchester League). The team included Pete and Jim Butler, Neville Cheney, Tony Ford and Ian Langrish.
Alresford Carnival Committee sent a letter asking Bramdean to form a tug-of-war team. Sam Slater (shopkeeper of Jordon House) was the trainer – he was an exarmy tug-of-war man and for the first year the team consisted of Dave, Jack Wingrove, Nobby Clark, Les King, Don Luff Ted Tiller and 'Big' Jim Butler The team travelled all of the county and further afield and in 1973 the Bramdean team had won eighteen trophies. Dave well remembers going with the team from Old Alresford to East Meon and on to Droxford in one day and winning a barrel of beer in each village. He says they did not drink their winnings – well only the last barrel!
In the middle 1960's Dave took over the recently formed Badminton Club. It was originally started for children but soon grew and the village hall was booked out for two nights each week – one for the children and the other for the grown-ups. Dave ran the club with Jim Lovelock and Tony James.
Dave was a founder committee member of the Village Hall which was built in 1963. Lord Sherborne (then Mr Ralph Dutton) loaned the money (interest free) to build the Hall and after the old school was demolished the Colt building was erected. Dave stayed on the Village Hall Management Committee until 1998 and was guest of honour at the opening evening of the new kitchen extension in 1999.
Lettice and Dave celebrated their Golden Wedding Anniversary in 2000 and had a barbecue party at their home at Lacey's Farm for all their family.