Hinton Ampner before World War II
By Ena & Horace Nicholson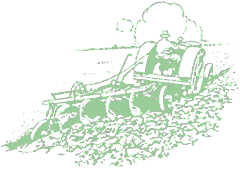 The Nicholson family originally lived at Bramdean Common. In the late 1920's they moved to Marsh Lodge Hinton (now known as The Lodge) and this is where Ena was born. The house had no bathroom but did have an outside loo. The bathroom, electricity and Rayburn were installed in the 'fifties but mains water was not brought to the house until the 1960's – all water came from a hand pump over the sink.
Their father was the estate carpenter and had his workshop in Manor Farm and Mrs Nicholson (Annie) worked at the House. Mrs Dutton was very kind and took Annie to Winchester in the car and if she was going to Froxfield asked Annie if she would like to accompany her as she knew she had relatives there.
This part of Hampshire was visited at different times of the year by travellers. The Diamots, who were true gypsies, used to stop off in Lamborough Lane – they made pegs and lace flowers with hazel stems; there was also 'Jesse' James, a wanderer These travellers caused no problems or harm and Annie used to give them tea.
Hinton Ampner School had about forty children on its registers. Mr Page was the head teacher and lived at The School House. Mrs Gamer taught the older children and Doris Budd taught the infants. Children played freely around the fields and lanes of the villages and a favourite haunt was a derelict farmhouse (now demolished) near the dewpond in Alresford Lane. 'Haunt' is the right word because the children believed there was a ghost in the farmhouse.
The Jubilee of King George V in 1935 and the Coronation of George VI were both celebrated in style. Mr Dutton organised bonfires and all were given celebration mugs and provided with tea.
Also in the 'thirties the Bishop of Winchester came to Bramdean Church to conduct a service and then walked via the footpaths to Hinton Ampner Church to conduct another service before walking on to Kilmeston to conduct a third.
Both Ena and Horace moved away from Hinton for a time – Horace was called up and went into the Army and served overseas. He also lived in Surrey. Ena lived in Winchester where she was ladies maid to Mrs Dorothy Smithers, who later became Lady Smithers, and moved with the family for a while to Strasbourg. Both returned to their home at The Lodge and are there today.