Hinton Ampner During the 1940's
By Harry & Margery Forbes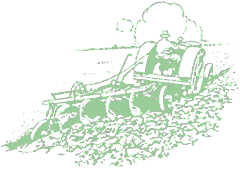 Harry and Margery Forbes moved to Hinton with their young daughter, Linda, in the early 1940's. Harry was employed as foreman by Mr Read who lived at Manor Farm, Hinton. They were offered a choice of two semi-detached cottages and chose the one nearest to the church. The cottage had no running water, no inside loo and no sink. When Margery insisted on having a sink, one was fitted by Freeman's of Cheriton which had a bucket underneath the plughole to catch the water.
Eventually mains water was laid on to the cottages, the work being done by prisoners from Winchester prison. However, the tap (cold only) was placed on the outside of the house as it was thought that the water might be wasted if they had an inside tap! Cooking was on the kitchen range – nowadays the cottages have Rayburn and electric stoves.
There were two hundred Hampshire Downs sheep and a further two hundred crossbreeds on the farm together with about sixty dairy cows. A horse and cart was used around the farm to carry the mangels for the cattle feed. Harry and the shepherd Mr Woods, had to shear the sheep by hand. Harry could clip a sheep in three minutes. TB was a problem during the 'forties and 'fifties and some cattle were lost due to the disease.
Margery remembers when the International Stores (grocery) from Winchester used to deliver provisions to Hinton; when there was a Post Office/sweet shop in the village, now 6 Hinton Hill, and when it was possible to go to a whist drive or dance every evening as there was always something on in Bramdean or one of the surrounding villages. Both of their daughters, Linda and Janet, went to Hinton School.
In 1956 Margery and Harry moved to Kilmeston and are still living in the same house forty-four years later. They celebrated their Diamond Wedding Anniversary in 1999 and have fond memories of their days in Hinton Ampner.