Coming to Hinton Ampner
By Tim Laker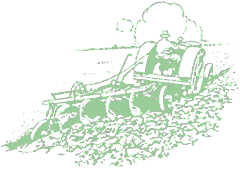 We found Arborvita in 1989 after weeks searching the Meon Valley and surrounding countryside for a house. The property had been empty for nearly two years following the death of Ted Phillips and there seemed a great deal of work to do before we could call it home. Jane wasn't a total stranger to the area, having lived for the first three years of her life in Bramdean, when her father was the local policeman. I think the memories of that first spring and summer are of hard work as we struggled to get the house up together, of walks along the footpaths around us as bluebells transfonned the woodlands, of treasured clumps of aconite that we found in the lanes and of cereal fields red with poppies.
As we worked to clear the garden of years of undergrowth, we found few treasures of note, save a silver coin and a Dinky toy. As we dug footings for a small extension we unearthed a brick path and lime washed flint wall three feet down. Around the garden buried by age we found the large flint path edging stones from a garden long since lost. I suppose these few finds prompted us to want to discover more of the house we lived in. We looked to the deeds to tell us more and discovered that in 1836 two cottages on land owned by the Ecclesiastical Commissioners stood on the site with thirty rod of land. Finally in 1893 a clerk from Manchester who had been left the houses in his sister's will, bought the freehold from the Manor for £4. 5s and a Mr Lush senior and junior lived in the cottages. In 1894 the cottages were sold to The Wesleyan Methodists who wanted to build a chapel on the site. One of the cottages remained as a dwelling whilst the other was used as a chapel. In 1903 the cottages, by now dilapidated, were bought by a Mr.Arnold from the Methodists and in 1907 Arborvita was built on the land.
Eighteen months after we bought Arborvita we drove home from Winchester with our new daughter Sarah. For her Arborvita is her first home and in that way it is very special. It is where she will spend the main years of her childhood and where many of her memories will be made. Living as we do outside the main village of both Hinton and Bramdean I often find it sad that there appears little within the villages to 'belong' to. Sarah is drawn to Cheriton, where she goes to school, for her activities, and Jane and I travel beyond the area for our pastimes. Over the past ten years we have in common with everyone else seen an unwelcome growth in speed and density of traffic along the A272. When we arrived here there were at least three local shops. Two are gone and one struggles to survive.
As our family lives through the next decade and Sarah reaches the age where college beckons, will she within her thoughts carry memories of these villages or will she just recall a few happy moments such as decorating the church Christmas tree at Hinton each year, and her days at Woodlands Kindergarten?