Christmas at Hinton Ampner House
By Gladys Trickle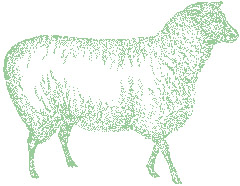 Whilst listening to the carols being sung so beautifully by the Winchester College Chapel Choir under their Conductor Julian Smith, I reflected on past Christmases at Hinton Ampner House.
As a small child, I remember the old house with its dark panels, tea in the servant's hall, carols around the brightly lit tree in the front hall with presents around the bottom for the children. Mr Ralph Dutton and the Rector would be standing either side of the tree with a wet sponge on a cane to extinguish the candles as they burnt down. The children who attended Hinton Ampner School were all brought to the party by coach and I must not forget Mrs Cross who kept many of the small children happy in her kitchen and prepared those delicious teas through so many years.
The three Miss Duttons, holding flat flower baskets, suitably decorated, full of oranges, apples, crackers and sweets (often net bags of chocolate money) would give one of each to every child upon leaving. My mother always received a beautifully iced cake, decorated with coloured marzipan sweets, made by Dumpers of Winchester.
Then came the war years when the House was occupied by the Portsmouth High School. We would be invited to watch their nativity plays and listen to the carols performed by the school orchestra and choir.
For three years after the war my family and I lived at Hinton House. Food was rationed so the Christmas party was catered for by a Miss Batty who lived at Lawrence the Newsagents in Alresford. The children were given a new half crown each instead of presents. (It later became a new fifty pence piece).
It was about this time that Mr Dutton decided to arrange for a children's entertainer to come to the party. After finishing tea in the Dining Room, the chairs were quickly moved by the staff through the double doors into the Drawing Room while the carols were being sung around the tree in the hall. The children would then be led into the Drawing Room to enjoy the entertainment.